Friday, December 28, 2012
Tuesday, December 18, 2012
How to Help Victims of Newtown School Shooting
People across the world are in disbelief after the mass shooting at Sandy Hook Elementary School in Newtown on Friday and many are wondering what they can do to help.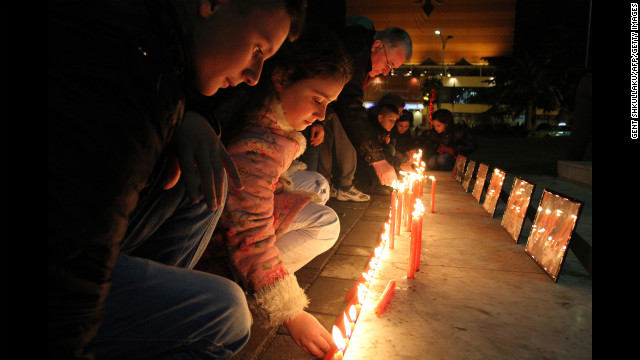 There has been an outpouring of emotional support for the people of Newtown after Friday's shooting.
The U.S. Postal service has been taking calls from people around the country wanting to send letters, care packages and drawings from children.The problem is, before Monday, there was nowhere to send the letters and cards.
The post office has created a Post Office Box dedicated to the people Newtown.
P.O. Box 3700
Newtown, Connecticut 06470
The United Way has set up the Sandy Hook School Support Fund.
"United Way extends our most sincere condolences and prayers to all those families affected by the devastating events in Newtown/Sandy Hook, Connecticut. While the eyes of the world may be on Newtown/Sandy Hook, to several staff, volunteers and contributors, Newtown is home. We will stand with the community and everyone affected directly and indirectly by this tragic event as we face the days and weeks ahead," the United Way of Western Connecticut's Web site says.
Check donations may be mailed to:
Sandy Hook School Support Fund
c/o Newtown Savings Bank
39 Main Street, Newtown CT 06470
There is also a way to donate online here. For questions, call 800-461-0672
Newtown Youth and Family Services has been providing counseling to any resident in need since the shooting. Any donations made to Newtown Youth and Family will be donated directly to those affected. Donations can be sent directly to Newtown Youth and Family Services via Caroline's Gift at the link here. Donations made for the next month will go to the victims. The agency's Tax ID number is 06-1082115.
The Newtown Memorial Fund is raising funds for expenses for police duty overtime and other community financial needs that arise, to assist the town with the design, placement and funding to donate a suitable lasting memorial for the community in tribute to those we lost and to provide an annual scholarship fund to help students of the Newtown Public Schools who will be going on to college.
The Friends of the Engel Family Fund has been set up in memory of Olivia Engel.
The James R. Mattioli Memorial Fund has been set up, c/o Newtown Savings Bank, 39 Main Street, Newtown CT 06470.
You can donate to the Chase Kowalksi Scholarship Fund, c/o Peoples Bank, 470 Monroe Tpke., Monroe, CT 06468.
There is a national effort to collect teddy bears to go to grieving students in Newtown and the Hersam Acorn and the Fairfield Sun will be taking donations. If you are connected to a business or organization and want to hold a connection, e-mail John Kovach at jkovach@hersamacorn.com. Bear donations will be taken until Friday, Dec. 28.
Friday, December 14, 2012
With 12 days to go before Christmas, millions of Americans are taking part in a long-held holiday tradition: procrastination.
According to a
new poll
from Reuters, 58 percent of us have done half or less of our holiday shopping. Twenty-eight percent haven't even started yet. That adds up to a lot of last-minute traffic in stores and online over the next 10 days.
But don't fret if you have yet to get gifts under the tree. It's possible to wait until really late in the game and still have everything delivered by the night before Christmas.
Free Shipping Day,
an annual event, is taking place Monday, December 17 this year. More than 1,500 retailers have signed on so far. The event's
website
will list all offers and deals at midnight ET on Monday, with guaranteed delivery by Christmas Eve.
But if you don't complete your shopping by Monday, don't fret: Handbags4Hunger is extending Free Shipping day to
"The 12 days of Free Shipping!"
Starting NOW, we are offering
free priority shipping on all U.S. orders*
through Monday, December 24.
To have your order delivered by Christmas Eve click here for deadlines.
All orders placed by Noon each day will have same-day shipping! The later in the week, the less sure your items are to arrive by Christmas Eve, so get those orders in early to be safe.
Disclosure of Material Connection: I have received one or more of the products or services mentioned in various blog posts for a discount or free in exchange for my unbiased review. I will always give my honest opinion regardless of any compensation received. Some posts may contain affiliate links. When you click on those links to make your purchases, I receive compensation at no extra cost to you. I love it when you do that. ;) So thank you!

Handbags4Hunger on Crunchbase