There's a very nice write-up about us today at Auctiva EDU. Here it is! :)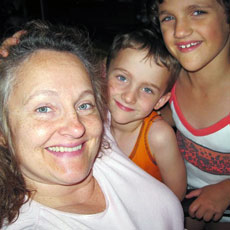 Lisa Stadtmueller, Handbags4Hunger
Lisa Stadtmueller gives fashionistas the chance to snatch up designer purses at low prices and help feed hungry children at the same time.
"Why not make a difference while you shop?" she asks visitors on the home page of her Auctiva Commerce Store,
Handbags4Hunger
.
Stadtmueller, who worked in the legal field for five years before moving into technology, began selling on eBay in 2001, offering items she found around the house. But her business model quickly changed after her mother-in-law asked her for help locating designer handbags on the marketplace.
"I was amazed at the demand that exists for good quality authentic designer handbags," Stadtmueller recalls. "I had been searching for my niche, and wanted to somehow tie that into charity."
It was around that time that eBay began working with MissionFish, allowing sellers to donate part, or all, of an item's sale price to charity. Soon, Stadtmueller began selling handbags, and donating 10 percent of her profits.
"Once I saw how successful my idea was—I never had an auction end without bids—I registered [my] domain name and set out on my own," Stadtmueller notes. "Seeing what people are willing to pay for these bags, I figured there was enough margin to pay some forward to a worthy cause."
A desire to help
Stadtmueller says her online business is "the fulfillment of a lifelong dream. I have found a way to combine my passion for shopping with a love for kids," she says.
"Once I became a mother, I realized how horrifying it would be to have my children go to bed hungry, let alone starve"
The mother of two has had the desire to give back since she was a kid, she says. Growing up in Niagara Falls, NY, an area hard-hit by manufacturing losses, Stadtmueller saw people struggle to get by. She recalls visiting a friend, who lived in a small two- or three-room house above a business, while both of the girl's parents were at work and she tended to household chores.
"I came away from that experience with a new perspective on how fortunate I was, and remember seeing my parents really stand a little straighter as I told them how lucky we were when I came home that day," she recalls.
Feed people, shop happy
Stadtmueller gets her authentic Coach, Kate Spade, Katy Van Zeeland and other designer bags at discounted rates by shopping at local department stores when they have sales specifically for charities. Stadtmueller opts for classic styles that have "a timeless quality to them," she says. She then sells her purses for about 40 percent to 80 percent below their original price and donates 10 percent of her profits to Children's Hunger Fund, a nonprofit organization that has helped feed more than 10 million kids in 35 U.S. states and in 72 countries.
When deciding on a charity, Stadtmueller chose the best-rated organization because it uses 99 percent of the donations it receives to feed families in need.
"Once I became a mother, I realized how horrifying it would be to have my children go to bed hungry, let alone starve," she says. "I can't believe it still is happening in this world every day."
While the designer bags may be the initial reason why shoppers venture onto her site, Stadtmueller likes to think that one of the reasons they ultimately buy from her is their desire to help feed hungry children around the world.
The shop's motto is "feed people, shop happy." And it seems to be working. So far,
Handbags4Hunger
has donated enough money to buy 160 pounds of staple foods, or enough to feed a family of five for a year.
The handbags Stadtmueller offers are 100-percent authentic and backed by a money-back guarantee. The authenticity isn't only to keep shoppers happy; it's also to keep people from being exploited, she notes.
"Why do we stress the authenticity issue? Because it is well documented that replica/ counterfeit products do harm to our society in numerous ways, form the obvious deprivation of revenue to the true brand manufactures, but more importantly, the industry involved in the production of counterfeit products is known for severe human rights violations, including forced child labor," she explains on her storefront.
"The set of features offered by Auctiva is the best I've found for the price"
Tools help her help others
Stadtmueller chose to open Handbags4Hunger with Auctiva Commerce after doing a lot of research, and even trying out a few other services. However, she found that the features others offered did not stack up to Auctiva Commerce.
"Each time, I came back to Auctiva after numerous frustrations with other products," she admits. "The set of features offered by Auctiva is the best I've found for the price. The customer service response time, the constant interaction with us on the Auctiva forums is unparalleled."
Stadtmueller began using Auctiva's eBay listing tools when she sold on that site, taking advantage of the "gorgeous" listing templates and Supersized images to give her items a little flair.
"Other services out there just pale in comparison," she notes.
Rock star treatment
While Stadtmueller began her business to help the needy, she also wants her shoppers to be happy throughout their buying experiences.
"We treat each customer as if they are our only customer, with obsessive detail to meeting their every need," she notes.
Stadtmueller has noticed that more businesses are taking a philanthropic approach to business—something that makes her happy.
"I'm glad to see more companies and individuals donating proceeds to charity," she says. "With the advent of technology, it's brought us all together and made that commitment to combat world hunger that much easier to achieve."